Why believe the Bible?
The information that brought me from agnosticism to believing the bible can be found at http://www.reasons.org/index.shtml  I made this "leap of faith" very logically and scientifically based upon the evidence presented.  Dozens of questions related to the authority of the Bible are answered via these links:
I will leave this issue to others who are more qualified to answer it.  But please check out the brief diagram at the bottom of this page.
We are convinced about the claims of (1) inerrancy (2 Sam. ; Psa. , Psa. 12:6) and (2) relevance that the bible makes about itself should read this brief article.
Why does this site use the bible?
The word of God saves
We use the bible to establish spiritual truth.  What else could we use?  Our opinion?  That won't save anyone. 
<![if !supportLists]>1) <![endif]>Acts 20
32"Now I commit you to God and to the word of his grace, which can build you up and give you an inheritance among all those who are sanctified.
<![if !supportLists]>2) <![endif]>James 1:21
Therefore, get rid of all moral filth and the evil that is so prevalent and humbly accept the word planted in you, which can save you.
<![if !supportLists]>3) <![endif]>1 John 2:5  5But if anyone obeys his word, God's love[2] is truly made complete in him. This is how we know we are in him..
<![if !supportLists]>4) <![endif]>John 8
31 So Jesus was saying to those Jews who had believed Him, "(46) If you continue in My word, then you are truly (47) disciples of Mine;
32 and (48) you will know the truth, and (49) the truth will make you free."
<![if !supportLists]>5) <![endif]>2 John 1
9 Anyone who goes too far and (1) does not abide in the teaching of Christ, does not have God; the one who abides in the teaching, he has both the Father and the Son.
Using God's Name
When we make statements about God, it is impossible to be more accurate than the scriptures themselves.  Psa 138:2 makes this clear. 
For You have magnified Your word above Your name - Psa 138:2
Anyone can say "God ____" or "God this or that", and use His name to make theological statements.  But the only way to measure the accuracy of such statements is by comparing them to the scriptures.
2 Timothy 3 16-17
All Scripture is God-breathed and is useful for teaching, rebuking, correcting and training in righteousness, so that the man of God may be thoroughly equipped for every good work.
If your statement contradicts the scriptures, then you have taken the Lord's name in vain.
Deuteronomy 5:11
'[Ex 20:7; Lev 19:12; Deut 6:13; 10:20; Matt 5:33] You shall not take the name of the LORD your God in vain, for the LORD will not leave him unpunished who takes His name in vain.
(Whole Chapter: Deuteronomy 5 In context: Deuteronomy 5:10-12)
Psalm 139:20
For they [Jude 15] speak against You wickedly, And Your enemies [Ex 20:7; Deut ] take Your name in vain.
(Whole Chapter: Psalm 139 In context: Psalm 139:19-21)
Test everything
I encourage readers to test the information on this site against the Bible, like the Bereans did. 
Acts 17:11
Now the Bereans were of more noble character than the Thessalonians, for they received the message with great eagerness and examined the Scriptures every day to see if what Paul said was true.
(Whole Chapter: Acts 17 In context: Acts 17:10-12)
1 Thessalonians 5
20do not treat prophecies with contempt. 21Test everything. Hold on to the good. 22Avoid every kind of evil.
While most of the content on the site is scripture itself, some of the parts that I wrote may contradict the scriptures.  I don't know of any such parts, but if you find one, then please contact us.
A standard
If the Bible is not the only internally consistent standard of spiritual truth, then this site is pointless.  We have nothing to measure truth by, unless there is a standard.  Without a standard, any spiritual discussion is just a pointless milieu of subjective opinions and personal feelings that can never define truth.  God transcends subjectivity with his word, applying a fair standard of one truth to all humans equally:  A standard to which we are all accountable. 
If the Bible is not the only internally consistent standard of spiritual truth, then what is?  This diagram shows how unlikely it would be for any other piece of literature to meet this standard: 
<![if !vml]>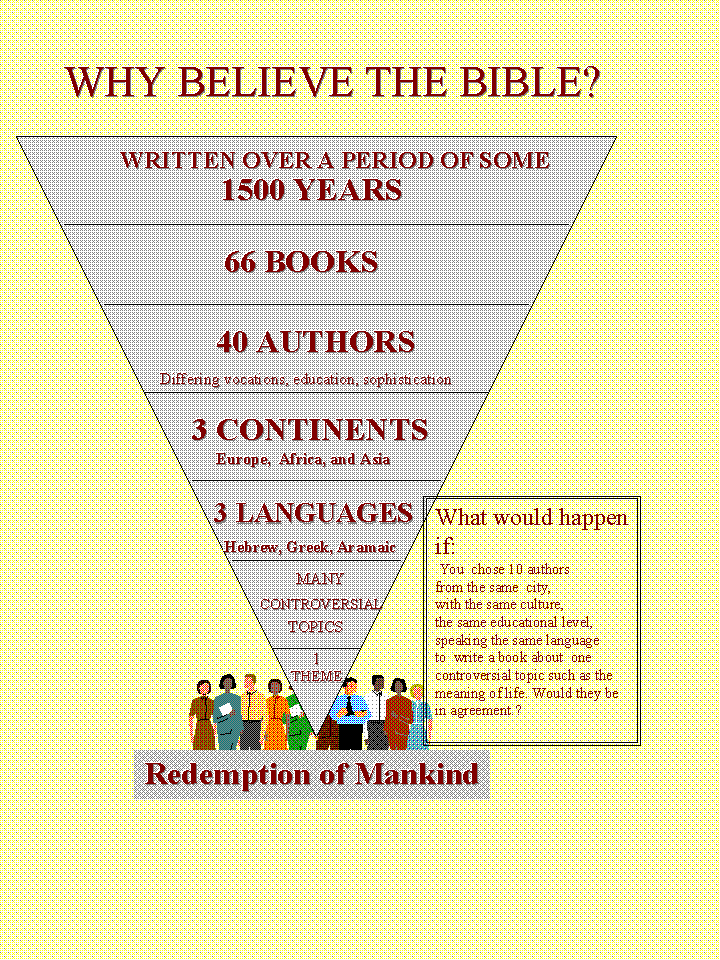 <![endif]>